Mickey and I were in the same Intro to Typography class at UCLA our freshman year, but he didn't really make an impression until our final. I can still vividly picture Mickey walking in to class slightly damp, because it had been drizzling that day. Our final was to design and bind a book by hand — and I couldn't help but be amused by what I saw when Mickey opened his book. He had accidentally bound all the pages backwards! He looked stunned, but then he made a joke and we laughed at it together. In that moment, I remember being drawn to his witty sense of humor and endearing optimism. After a few missed connections over summer break, we serendipitously found ourselves living on the same floor our sophomore year. Call it fate or luck, either way, we fell for one another and made it official that year!
ADVENTURES TOGETHER

Over the years, we've visited many places with family and friends. With every new experience and milestone, we grew closer together. Here are some of our favorite highlights.
After graduation we took our first big trip across Europe, ending with Oktoberfest celebrations in Munich.
This is us enjoying a triumphant rest on the mountain peak. Without any prep we relied on our dwindling reserves of youthful energy and hiked over 16 miles on this very long day. We probably won't do this again anytime soon, so I'm glad we got some photo evidence to show our future kids.
Dogsledding through the barren ice plateaus of Norway was hands down, the most epic thing we've ever done. And plus, the dogs were adorable!
We visited The Great Wall of China during the off-season months. A really serene and majestic sight to behold.
Grinning with full bellies after dining at Din Tai Fung in the Taipei 101 skyscraper.
Visiting the beautiful temples in Bali was a really memorable experience.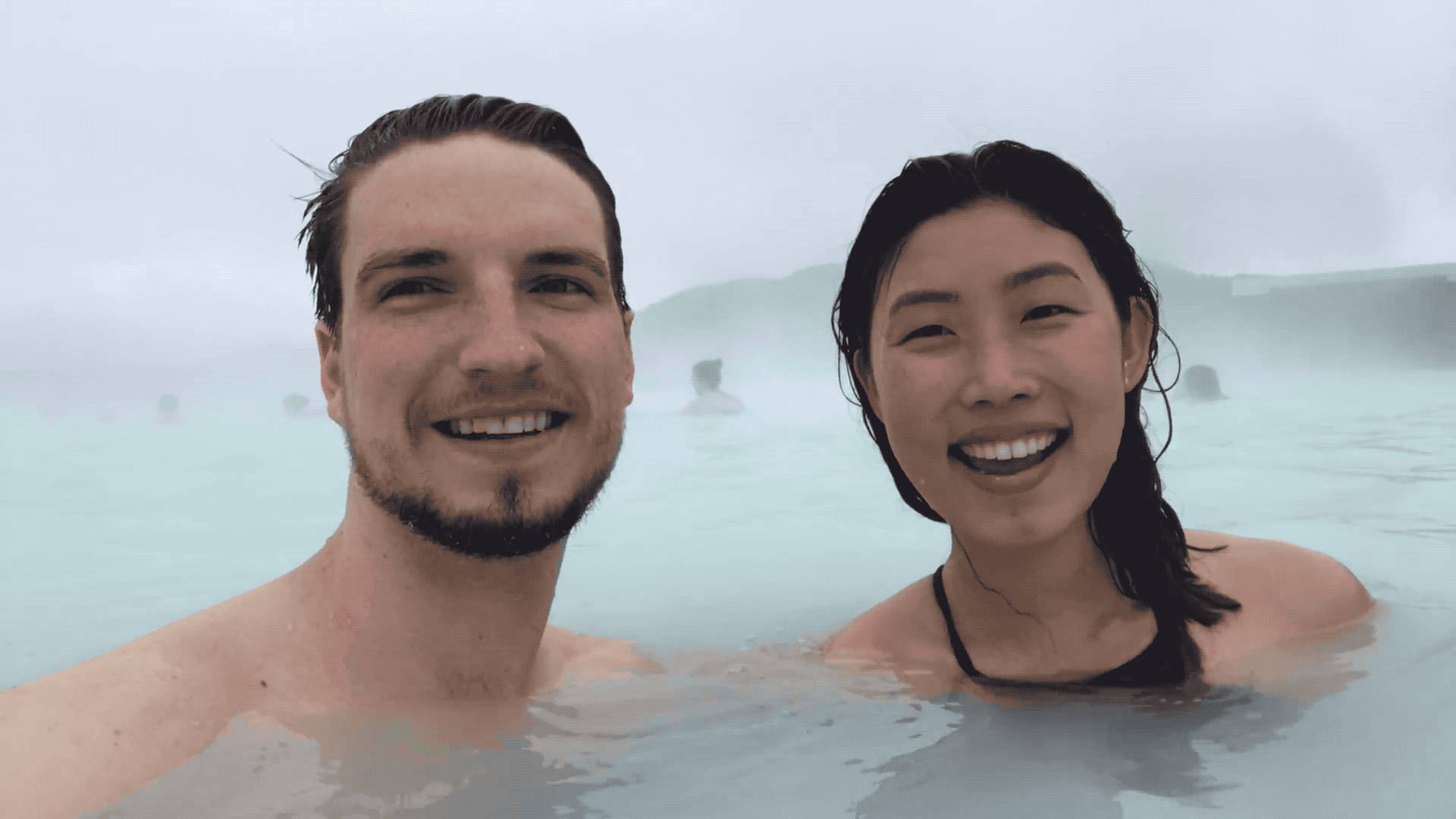 Here we are soaking in the mineral hot springs of Iceland. Best use of a layover, ever.
With the addition of Mia, a Toy Australian Shepherd, we began establishing our small family in the Bay Area.
Safaris in South Africa are not for the faint of heart! We rode along in open-top jeeps and came less than ten feet from lions, giraffes, elephants, and cheetah cubs!
SAYING YES
After doing the long distance thing, we decided it was time to move in together. Somewhere between the day-to-day moments of cooking for one other, folding laundry together, binge-watching new TV shows, debating whether or not to get a dog, getting a dog, getting up very early in the morning to walk the dog and making a home that felt like ours — we started realizing that this could be it. This could be forever.
We both knew we would marry so I wanted to surprise Rue with the proposal. After Rue unknowingly took a rain-check on my first attempt, I planned a proposal she couldn't miss — a dinner at home right after work. I made sure to downplay the plans to avoid raising suspicion and it apparently worked too well. The time of our dinner date came and went. I paced around relighting candles and rearranging flowers as I waited. Finally, she arrived home. It turned out that she had taken a detour to pick up dry cleaning! The expression on her face, when I opened the front door to greet her, made it all worth it. After putting away the dry cleaning, I got down on one knee and asked her to marry me. She said, "yes!" and we were both so giddy and excited that we put the ring on the wrong hand!
THANK YOU FOR CELEBRATING WITH US!
We are so grateful we got to share the start of our marriage with our dear family and friends. It was truly the happiest day of our lives and it's all thanks to each and every one of you. We love you all so much!
WITH LOVE, RUE & MICKEY